Protecting Our Citizens
The patrol division of the Tehama County Sheriff's Office is currently comprised of 4 sergeants and 16 patrol deputies. The patrol division is responsible for providing 24-hour law enforcement service throughout the unincorporated areas of Tehama County.
Law enforcement service includes protection of life and property, service of arrest warrants, and non-criminal related calls for service. This division is also responsible for conducting general criminal investigations, including death investigations, narcotic investigations, and juvenile investigations.
If you would like to participate in a "ride along" with a patrol deputy, complete the Citizen Ride Along form and drop it off at the Sheriff's Office on Antelope Blvd., Red Bluff. A deputy will contact you to schedule the ride along, as staffing allows.
Honor Guard – In Valor there is Hope!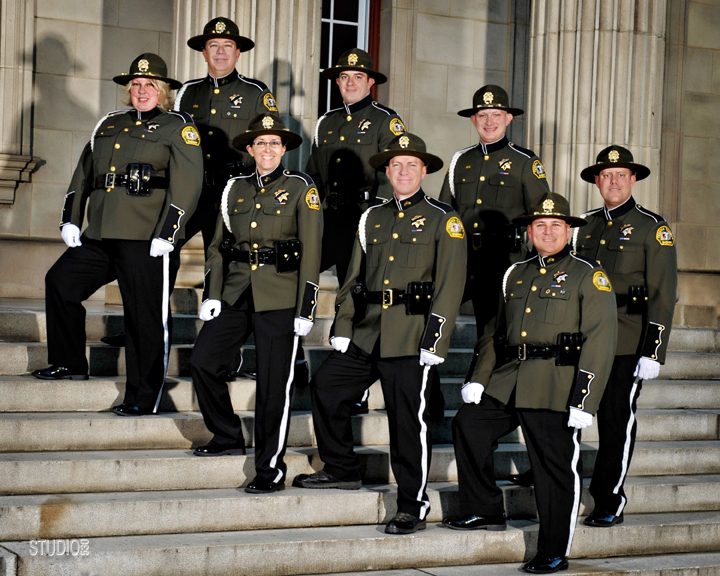 Pictured from left to right
(front row)
Deputy Shelley McCullough, CD Sergeant Colleen Lewis, Sergeant Andy Houghtby and Sergeant Rod Daugherty.
(back row)
Detective Sergeant Mark Levindofske, Deputy Mike Enyart, CD Scotty Kelley and CD Chris Thomas.
Captain Derek Sherrill
Captain Derek Sherrill began his career in law enforcement in 2001 with an enlistment in the Air Force as a member of a Security Forces squadron. Captain Sherrill underwent three separate deployments to the Middle East during operation Enduring Freedom and Iraqi Freedom; He received an honorable discharge in 2005.
Captain Sherrill has been employed with the Tehama County Sheriff's Office since 2008. He started as a correctional officer in the jail and quickly promoted to Deputy Sheriff, with a transfer to the operations division in 2009. Captain Sherrill has been assigned a variety of duties which include: Patrol, S.W.A.T, Field Training Officer, Investigator, Dive Team and Range Instructor.
In 2018, Captain Sherrill was promoted to Patrol Sergeant and was selected to be an Assistant Team Leader, Team Leader and is now the Tactical Commander for the Tehama Interagency S.W.A.T. Team, which he has been a member of since 2009.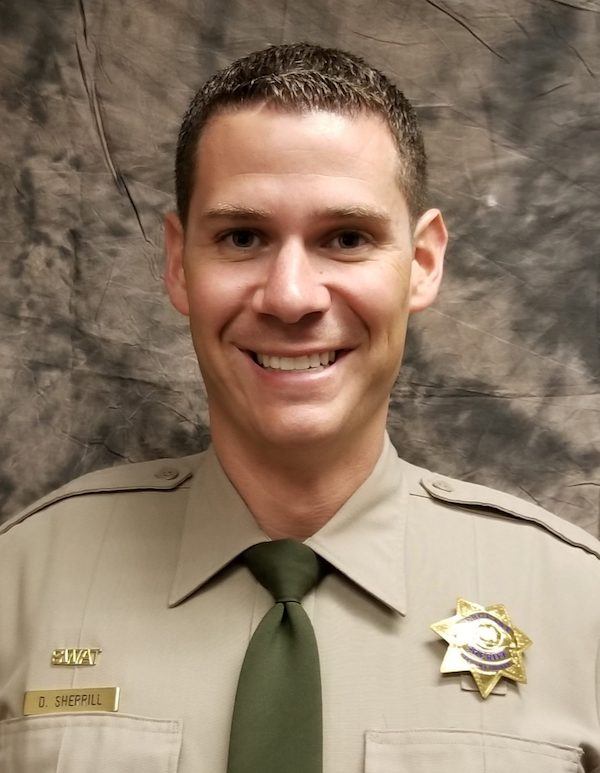 Sergeant Chris Benson
Sergeant Benson started his career in 1998 in the US Army. He spent three years stationed in Ft. Drum, NY. He was honorably discharged and was hired as a correctional officer in 2001. In 2003 he was called back to active duty and deployed to Iraq for the begging of the war as Military Police.
Sergeant Benson attended the Butte Extended Academy and graduated in 2006. In February of 2007 he was promoted to deputy sheriff. Sergeant Benson has been assigned to various duties which include Patrol, S.W.A.T., Dive Team, Field Training Officer, T.I.D.E. Narcotics Task Force.
Sergeant Benson left Tehama County in 2018 and bought a ranch in Modoc county where he worked for 4 years as a patrol sergeant, training coordinator and K-9 handler.
Sergeant Benson returned to Tehama County in July 2022 as a patrol sergeant with his K-9 partner Rogue. Sergeant Benson has returned to the S.W.A.T. Team and is excited to help other deputies and employees reach their career goals.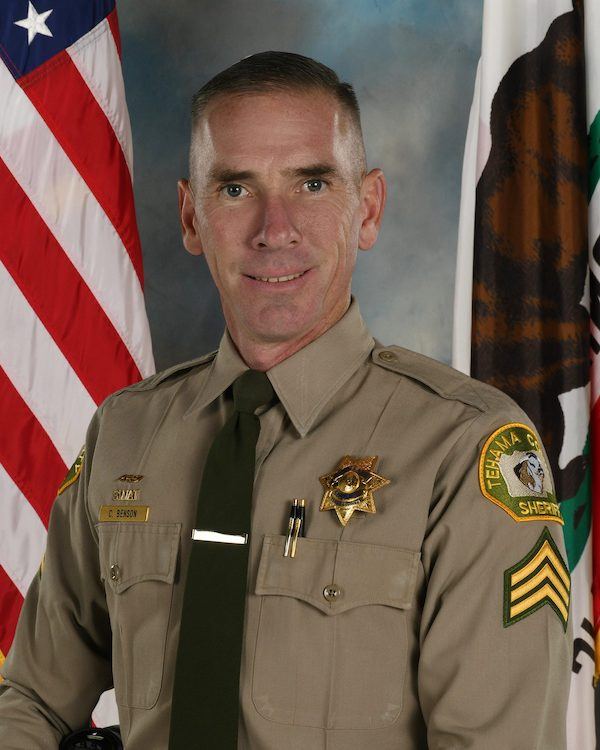 Sergeant Zack Backus
Sergeant Backus began his Law Enforcement career in 2010 with the Trinity County Sheriff's Office. While employed with Trinity County he served as a Correctional Officer, Dispatcher and Reserve Deputy Sheriff.
In 2014 he went to the Shasta County Marshal's Office where he worked as a Bailiff. While primarily assigned to a trail court, he also worked in traffic court and family courtrooms.
In 2016 he was hired as a Deputy Sheriff assigned to the Patrol Division for the Tehama County Sheriff's Office and in 2022, he was promoted to the rank of Sergeant within the Patrol Division. In 2018 he was presented the Live Saving award for his actions on a traffic accident that he came upon, ultimately saving the life of a 17-year-old.
Sergeant Backus is currently assigned to the Crisis Negotiations Team as the Team Leader, Sheriff's Honor Guard, a Terrorism Liaison Officer and the Tehama County Explorer Post Coordinator. His past assignments include being the City of Tehama Dedicated Area Deputy and Field Training Officer.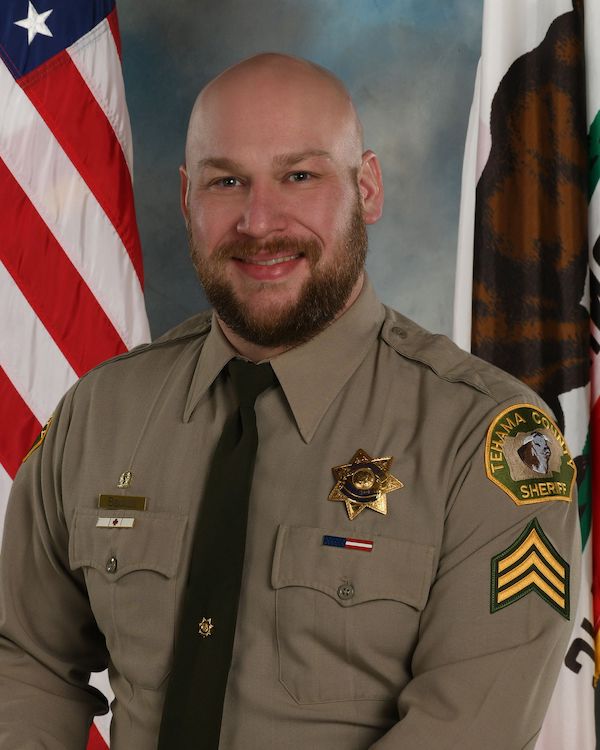 Sergeant Danielle Harris
Sgt Harris has worked for the Tehama County Sheriff's Office since 2002. She started her career working as a Correctional Officer in the jail. In 2007 she was promoted to Deputy Sheriff. Since then, she has worked numerous assignments such as Tehama Interagency Drug Enforcement (TIDE), AB109, Field Training Officer and livestock Investigator.
Sgt. Harris promoted to the rank of Sergeant in 2019 and is currently assigned to patrol.
In her off-time Sgt. Harris enjoys riding horses, barrel racing and spending time with her family.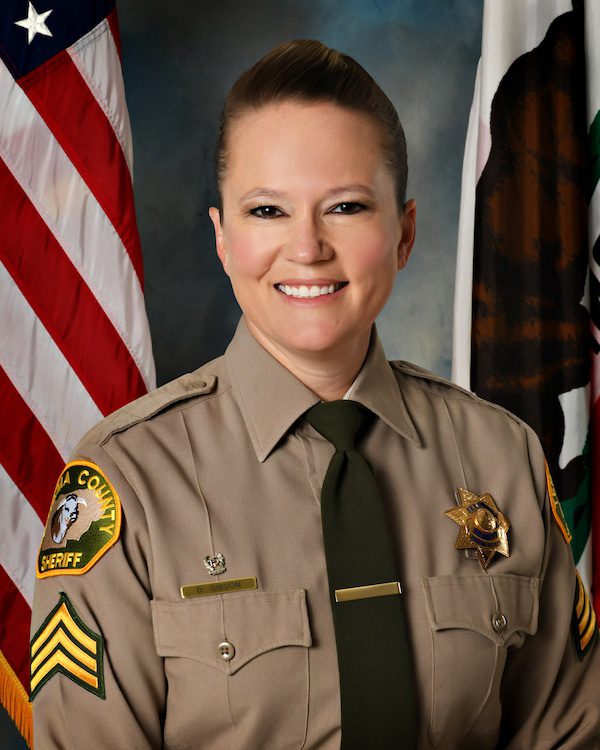 Sergeant Steve Hoag
Sgt. Stephen Hoag served in the U.S. Army with the 101st Airborne 187th Infantry and upon completion of service in 1999, went into the law enforcement academy at Butte College where he began his law enforcement career.
Since graduating from the police academy in 2000, he has worked at the Tehama County Sheriff's Office operating in the county jail as a Correctional Officer before becoming a Sheriff's Deputy for the agency. As a peace officer he has been a Patrol Deputy and a Field Training Officer (FTO).
Sgt. Hoag worked in the Detectives Division as an Investigator for two years and was promoted to the rank of Sergeant where he became a Field Operations supervisor and has overseen the Dispatcher Unit and Animal Regulations Officers unit. Later in his career with the Sheriff's Office, he supervised the Detective's Division in the Major Crimes unit along with the Coroner's Division.
Sgt. Hoag's supplemental duties include Use of Force instructor and Taser program supervisor/ instructor.